misha kahn on combining technology and craftsmanship for friedman benda's design in dialogue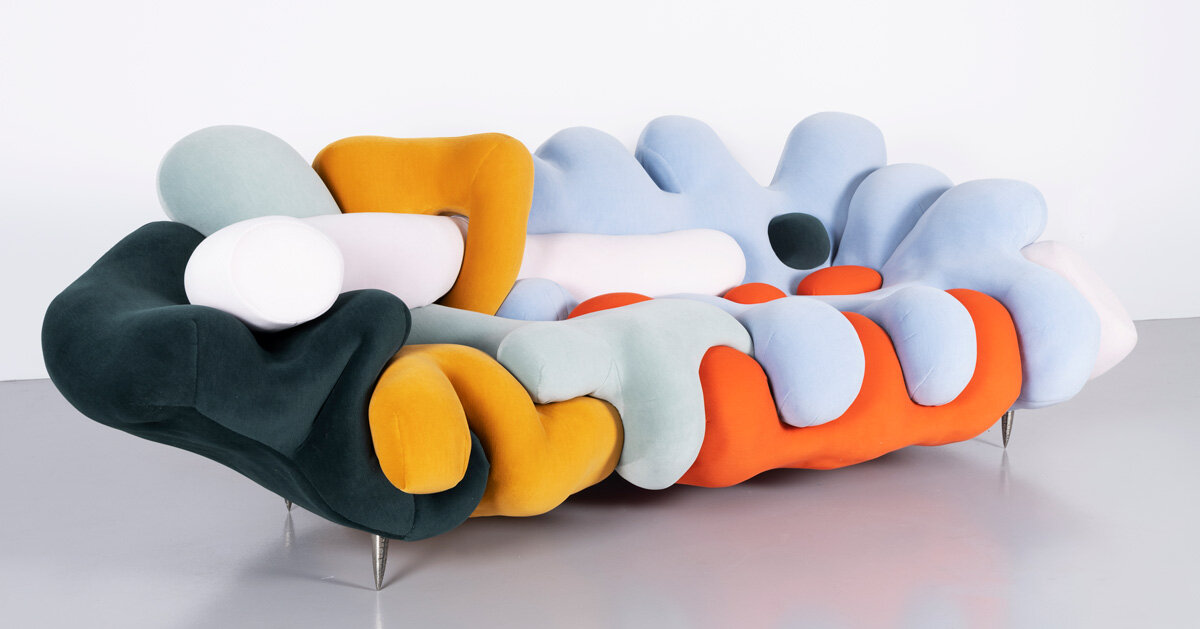 DESIGN IN DIALOGUE: MISHA KAHN
April 1, 2020, New York gallery Friedman Benda initiated a online interview series aimed at connecting individuals around the world with leading voices in the creative field. Design in dialogue is a conversational program hosted alternately by a curator and a historian Glenn Adamson and designer Stephen Burk who engages with designers, creators, critics and curators as they reflect on their careers and creative processes. In the context of COVID-19[feminine] and global lockdowns, conversations take place virtually on zoom for 1 hour so anyone in the world can tune in, and include a hands-on Q&A with the audience in attendance. Friedman Benda has since featured more than 90 episodes, each offering unparalleled insight into the sensibilities, thoughts and memories of today's creative protagonists. See our recent article by Chris Schanck on his otherworldly aluminum foil creations and Ortamiklos on "improvisational design".
On the occasion of Misha Kahn's fourth solo exhibition at Friedman Benda, 'Style Without Substance', which is on view at the gallery until July 1, 2022, we share the dialogue design conversation with Glenn Adamson. The conversation focuses on Kahn's creative journey, process, and the inventive thinking behind his wide-ranging furniture designs, as well as his previous exhibition, "Soft Bodies/Hard Spaces," which was shown at the gallery in New York. between February 27 and April 4. , 2020. Kahn embraces an unorthodox outcome in his practice, creating pieces with a variety of mediums including metalwork, glass, wood, textiles, ceramics, casting, fiberglass, resin and cement. Combining technology and craftsmanship, he employs a whole spectrum from lo-fi and ad hoc techniques, such as improvisational castings and collage, to virtual reality.
Watch the full video interview below and learn more about Misha Kahn's work and his ongoing exhibition at Friedman Benda below.
EXHIBITION 'StyLE Without Substance' AT FRIEDMAN BENDA
Born in Duluth, Minnesota in 1989, Misha Kahn has become one of the leading creative voices of his generation. The Brooklyn-based artist is known for embracing spontaneity and non-conformity in his creative process, resulting in wildly imaginative pieces that are rich in color and materiality. In his fourth solo exhibition at Friedman Benda, 'Style without substance', Kahn sets out to 'examine the essence of a material and help stylize its "thing" so that it is apparent to humans.' Starting from a psychedelic vision and followed by a two-year quest, the exhibition brings together a series of recent works that explore ways of making the invisible visible.
Besides semiotics and assigned meanings, Kahn believes that objects and materials have energy and if one designs the right circumstances, one can experience it. Visitors to the 'Style Without Substance' exhibition, which is on view until July 1, 2022, encounter aluminum and glass tondos, which Kahn calls 'portals', a multicolored stretch velvet sofa and a dining table round made apparently malleable. stainless steel inlay with colored glass gems, among other exhibits. Kahn often combines lo-fi and ad hoc techniques, such as improvisational molds and collage, with digital tools including virtual reality and 3D printing. Many pieces in the exhibition testify to this fluidity between technology and craftsmanship that defines his practice.Installation images 'Misha Kahn: Style Without Substance', courtesy of Friedman Benda and Misha Kahn
all images by Timothy Doyon unless otherwise noted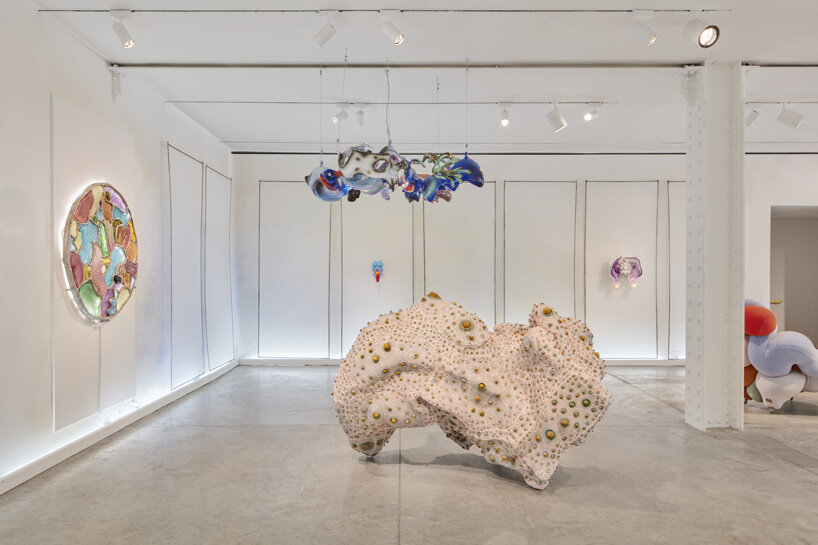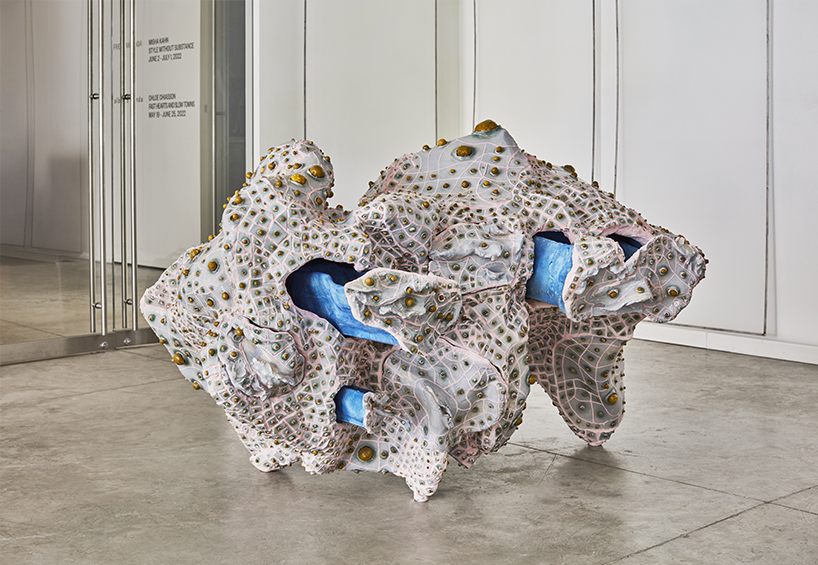 Ogré, 2022