Bay Pavilions Wins National Innovative Design Award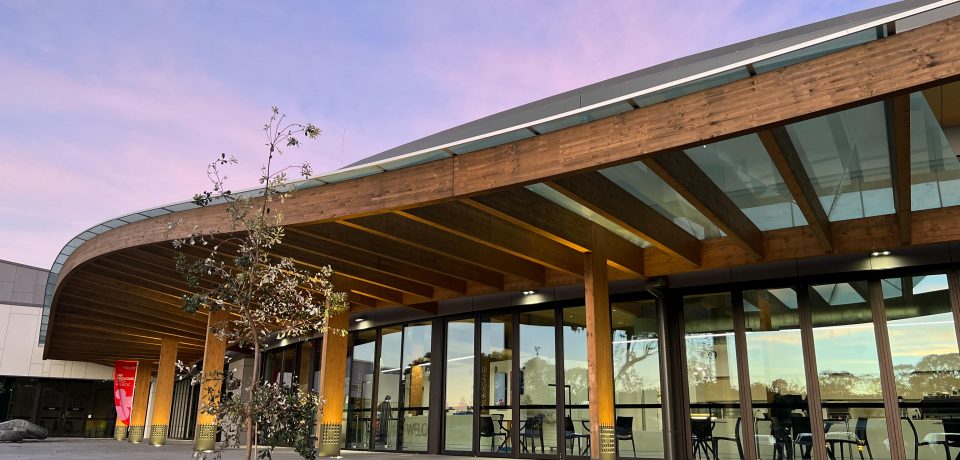 The unique development of the Eurobodalla Bay Pavilions has raised the bar and is paving the way for other innovative local councils after winning a national design award.
The $69 million complex won the Sports and Leisure Facilities Design category at the 2022 Australian Sport, Recreation and Play Innovation Awards in Melbourne.
Presented by NBRS Architects, the award recognizes innovative and sustainable design that creates an environment where more people are active.
NBRS Director Andrew Tripet, who partnered with Donovan Payne Architects to design the building, said it was a credit to Eurobodalla Council for embarking on such an innovative brief.
"Interestingly, much of the discussion at the National Sport Convention in Melbourne this year has been about how we can make new facilities more inclusive and appealing to a wider range of the community so to involve them and participate," said Tripet.
---
READ ALSO: Increased resilience funding to help more victims of Eurobodalla bushfires
---
"I think Eurobodalla council should be congratulated for creating such a unique project that many other councils will now see as an example of how to build contemporary and sustainable facilities for their communities."
The council's director of planning and sustainability, Lindsay Usher, said the council wanted a historic building and the award was a welcome recognition of that vision.
"From the start, we wanted a building that provided an opportunity for people of all ages and abilities, and a building that allowed our community to come together and grow," Usher said.
"This award is recognition of that vision and the hard work of so many people in our community who contributed to the design process."
---
READ ALSO: Last of Queanbeyan's main road lanes painted in memory of blacksmiths
---
Mr. Usher said winning a national award was rewarding, but it was the feedback from the community that he loved the most.
"After everything we've been through over the past few years, the positive vibe and feeling this building has created within our community is so important. The smiles on the faces, that's the reward.
The facility opened in June and includes a 25-meter swimming pool, a 10-meter hydrotherapy/warm water program pool, a toddlers' swimming and recreational pool, as well as as a water park, four water slides, a cafe, a gym and groups fitness area.
The grounds of the arts and culture center include a tourist information center, an auditorium with retractable seating for 350 people, dressing rooms, green rooms, gallery space, dance studios and workshop spaces of arts.